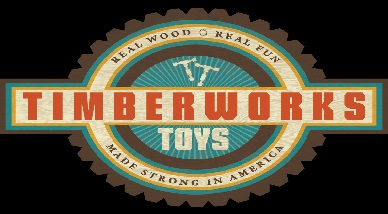 "Timberworks Toys" is a company that produces 100% American heirloom-quality wooden toys. The whole idea started a few years ago, when a father decided to make some log toys for his son. Just like that, an amazing idea was born. The father of the family, being a cabinetmaker, started making some wonderful, unique pieces, and that is how "Timberworks Toys" was born!
The products are highly inspired by the father-son dynamic. Besides, it all started with the dedication and love of a father for his son. Chris Heston, the father mentioned before, and the producer of the items of the company, is devoted to the premium quality of the products. His creations are fun and educational at the same time.
The company produces large-scale lines that unlock your child's imagination. In fact, the new line of large timbers, widgets and wheels can make your kids so happy while they explore their unlimited creative potential. Made with the traditional wooden log sets in mind, the company's wheels and widgets can also be used by future generations. The mission of the company is to make you happy. They want you to explore your creativity while having fun. What is better than that?
Available Toys
Beautiful Building Blocks (51 pieces)
Block City (52 pieces)
Cities by the Sea
Cottage / Bridge Set (52 pieces)
Wheeled Vehicle Set (52 pieces)
Covered Bridge Set (71 pieces)
King Set (100 pieces)
Below you can also see the entirely new line of toys  of this company. They have designed several sizes of dollhouses and a bookcase for a child's room. These products follow the same quality you have found in their older products.
Tiny Dollhouse
Medium Dollhouse
Large Dollhouse
Grand Dollhouse
Scalloped Bookcase
Address:
1200 Bowling Street
Columbia, MO 65201
Locate "Timberworks Toys" on a map:
Telephone:
1-877-564-8697 (573) 875-8747
Founder:
Chris Heston
WebSites:
E-mail:
timber-works@usa.net
Dealers of "Timberworks Toys":
A Child's Toy – Greeley, CO
A Game 2 Teach – Greeley, CO
AJ's Playroom LLC – Fredericksburg, VA
American Kids Warehouse – Cape Coral, FL
Earth Friendly Tots – Simpsonville, SC
Enviro Products World – Cranford, NJ
Endeavour Toys – Albany, NY
Free Shipping Toy Store- Cranford, NJ
Fun Toy Mall – Lakewood, NJ
Heirloom Wooden Toys – Arcadia, CA
Imagine Childhood – Castle Rock, CO
Made Here Made Well – Chicago, IL
The Marketplace – New York, NY
Rosie Hippo – Jersey City, NY
Sensory Edge – Canoga Park, CA
School Specialty – Appleton, WI
The Creativity Institute – Metairie, LA
Wonderful Wooden Toys – Corydon, IN
The Acorn Store – Santa Monica, CA
Building Blocks Toys – Chicago, IL
Cheeky Monkey Toys – Menlo Park, CA
Geppetto's Toy Box – Oak Park, IL
Henry's Toyshop – Mill Valley, CA
Magical Child West – Encinitas, CA
Thinker Things – Solana Beach, CA
Why is "Timberworks Toys" featured on www.USAmadeToys.net?
Our site www.usamadetoys.net is dedicated to finding, cataloguing and categorizing all the companies that make toys in the U.S.A. We have a passion about toys of all kinds which are made in America, that in most cases are of superior quality to the Chinese or made-somewhere-in-Asia equivalent ones.
In this page we are presenting the company called "Timberworks Toys". This company is based in Missouri in the U.S.A. and claims to sell toys that belong to the following categories: "Wooden Toys". Please keep in mind that we are not in any way affiliated with this company (or any other company featured on usamadetoys.net), and we are not being paid to feature them on our site. We simply discovered that "Timberworks Toys" is based in the U.S.A. and we decided to write about them on our site. Every single one of the companies you will find in this site are also American and claim to manufacture their toys on the United States.
Because we have never come in any direct contact with "Timberworks Toys", we don't really know if it is really in operation or if they DO sell USA made toys. By using our services you agree to our terms of use and our privacy policy. In a few words:
We are not responsible for errors or omissions on the contents of www.usamadetoys.net and we cannot be held responsible for any damages that may occur from it.
We are not responsible for the content or the quality of information of other websites that are linked on this website.
We cannot guarantee you that all toys (or parts of them) that are produced by companies featured in this www.usamadetoys.net are solely produced in the USA. Please do your own research before purchasing any of them.
We cannot guarantee you about the quality of toys sold by these companies. Do your own research!
We are not paid by any of these companies to feature them on our site.
Advertisements on this Website (from Google or other advertisers) may include toys which are not made in the USA.
Found any errors? Do you want to submit new information or a new company?
If you have found any errors or want to submit a new U.S.A. company (that makes toys of course!) or want to talk to us about anything, please use our contact form.
If you liked what you read, please share it. It really helps us a lot.